We provide free storm damage inspections in the wider Indianapolis area by trained insurance specialists.
During our inspection we will locate and identify any damage to your home or business. If found, we will work with your insurance adjuster to ensure you receive the maximum benefits covered by your policy. 
If you recently experienced a significant storm event, you may have damage that's covered. Contact us today to schedule your free inspection. 
Storm damage: what you need to know
Every year, damage caused by storms costs the homeowners of Central Indiana hundreds of millions of dollars. Regardless of the type of storm, if it's severe enough, your entire house is at risk of being damaged. Storm damage is not something you should take lightly; even if you cannot see any, it's always a good idea to contact a local contractor, and have them inspect your property for you.
Hail damage is one of the most reported when it comes to homeowners claims. It is estimated that one in 35 homes report a hail damage claim a year.
If severe, hailstorms can completely tear siding off of a house, break windows, and cause significant damage to your roof.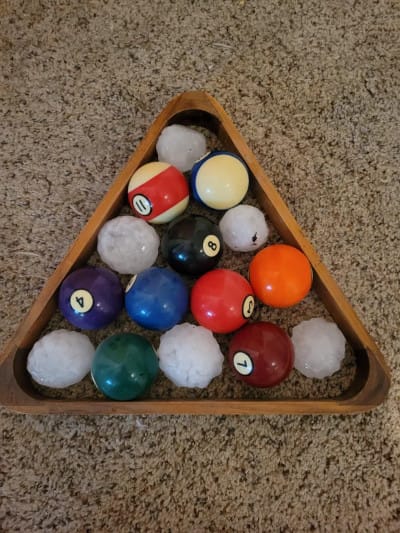 Anything this size can cause major damage on your house. Unless you have a metal roof, it's likely that your roof suffered hail damage. It's imperative that you get your house inspected by professional contractors in order to ensure the safety of your family, and your whereabouts, and see how you can get the maximum benefits that your policy covers.
Please use the form at the bottom of the page to schedule an inspection with us, or use our contact page.
What we normally check for during a hail damage inspection:
Even if your house has a lightning rod installed, when a lightning storm occurs, it's possible for it to cause damage to your electronic devices, any antennae or satellite dishes you might have, and any steel framework.
Torrential rain can cause floods, which kill more people in the US every year than hurricanes, tornadoes, and lightnings combined. Flooding doesn't only cause structural damage, but can also cause dangerous mold to develop, which presents a serious health hazard. Unless steps are taken
by professionals to eliminate the source of moisture, mold will continue to grow.
When we check for damage caused by rainstorms, we usually focus on the following
Homeowners are urged to act as quickly as possible and hire a professional who will help them diagnose and identify any damage – visible or not – that may have occurred during a storm. Getting help from a qualified contractor should be at the top of your priority list, to make sure no damage goes by unnoticed.
has your property suffered damage?
request a free storm damage inspection
Chapman Neil's team of highly trained insurance specialists will get back to you ASAP to locate and identify all signs of damage caused by the recent storms.
We offer our services in the greater Indianapolis area: Carmel, New Palestine, Fishers, Noblesville, Zionsville. However, even if you're outside of this area, don't hesitate to contact us.
Leave your name and your email, and tell us a bit more about your issue.
You will hear back from us shortly.